Explains how to set up the comments feature
To really understand what matters most to your employees, add open-ended questions at the beginning of every survey and the ability for your employees to leave a comment on every survey question, independent of your survey frequency, and get priceless information from your employees. Answer the anonymous comment in an anonymous chat and break the silent barriers in your organization.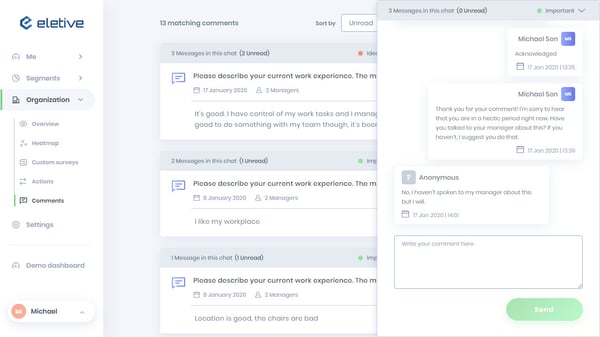 Comment questions (open-ended questions)
The open-ended questions can be asked at the beginning of the survey to avoid skewing the respondent's perception of the question or last in the engagement survey to gather feedback or other things on the respondent's mind. To modify and add open-ended questions, navigate to Settings and Comments.
Add question
Press Add Question
Input the question text and add translations if desired
Pick the frequency

For more information, read the help text in the app

If the entire organization should be targeted, leave the target group empty. If specific segments should be targeted, pick them.
Press Create
To place the question last in the survey simply drag and drop your question to the box below.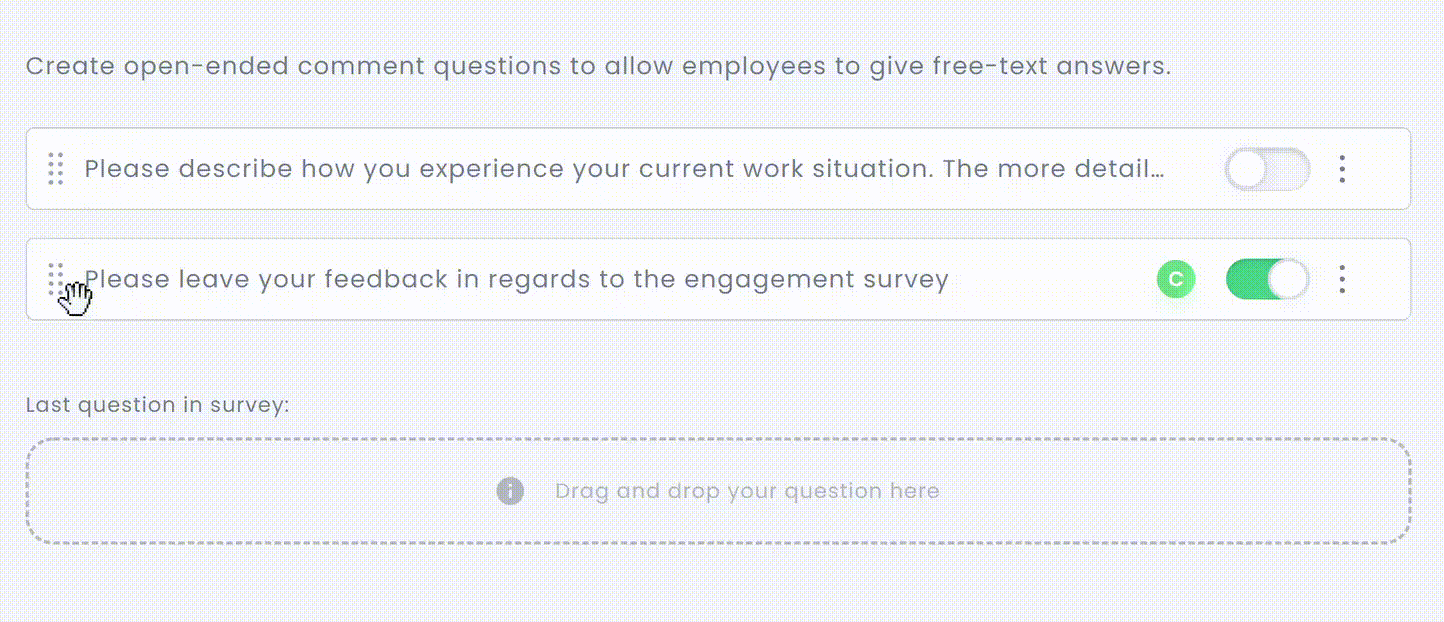 Survey comments
If you want users to have the ability to leave comments on all questions and not only when getting the open-ended question, activate Survey Comments in the Settings and Feature list.
General Comments
When activated, this feature will allow users to create a general comment at any time.
Whistleblower Comments
The whistleblower feature enables users to report misconduct at any time. The whistleblower comments can only be read by an appointed whistleblower auditor. If you have an external partner that handles your whistleblower complaints, they can also be appointed as an auditor, so long as they are added as a user in your organization in Eletive.
Appoint Whistleblower Auditor
Navigate to Settings and Comments
Press "Whistleblower Auditors"
Search for the user(s) you would like to appoint as Whistleblower Auditor(s).