You have the opportunity to export your results to PowerPoint through the "Export"-button in the top right corner when viewing a report in the "Overview" subsection on either the "Me", "Segment" or "Organization" level.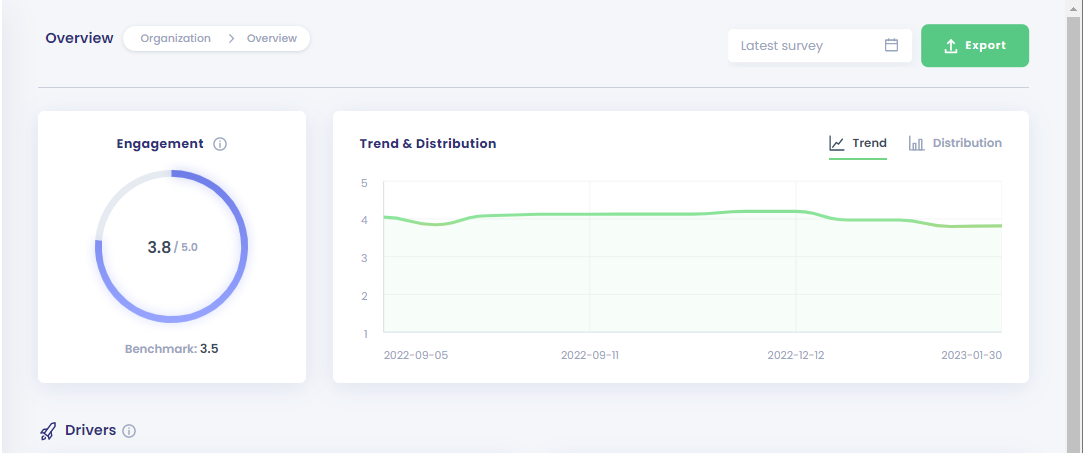 The PowerPoint will be structured in a standardized format, once you open the file you have the opportunity makes changes and personalize the slides to your liking.
Troubleshooting of exports
The file cannot be opened
If you cannot open the PowerPoint report after it has been exported, the reason is most likely due to using an old version of PowerPoint. The error message may be that the file is damaged or broken but that is not the case. However, if this message is shown, it is common that PowerPoint actually damages the file by trying to repair it when it is not broken. After updating PowerPoint, make sure to export a new version of the report before testing again.
Version
To see what version of PowerPoint you are using, press File and look for About under Account or only About depending on your version.

Please verify that you are running the latest version which can be found in Microsoft's update history.
Update
How to update PowerPoint depends on your organization and version. Please contact your IT department if you are unsure how to do it.
Content are not displayed in the file
If you cannot view all of the contents in the file, check that PowerPoint allows documents on a network to be trusted. See the example solution here from Microsoft Community.
Additionally, you can check if there are any specific settings in your web browser that is blocking certain contents from being downloaded.
Note: Please note that we do not support other software than our own, including PowerPoint. This means that we will not be able to help you with anything related to other software than Eletive.